Ask someone to name the first things that come to mind when they think of lawyers, they probably think: stuffy, unapproachable, and too expensive. Whilst we are not all like that (I promise!), it is understandably daunting to speak to a solicitor. Especially if it is the first time you need to.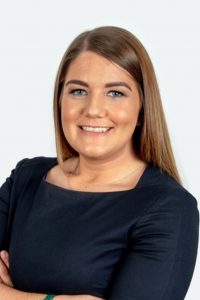 The legal profession has made strides in recent years to shed this image of the stuffy Oxbridge-type lawyer. However, misconceptions remain. Rebecca May, Solicitor at CJCH breaks down these common misconceptions. If you have a legal matter or need legal advice, speak to a solicitor. We are experts in our field, will always try to get the best outcome for our client and we don't bite – well, most of us don't!
What are the main misconceptions you think clients have about speaking to a solicitor?
Many clients are understandably intimidated when approaching a solicitor. Usually for fear of not understanding the legal jargon that is often used.
Historically Solicitors were portrayed as unapproachable and pompous. Furthermore, it was often thought that their only intention was to charge extortionate fees for their works.
How do you make sure clients find you approachable?
Speaking to clients in plain English is key! I explain legal terminology as simplistically as possible. This helps ensure that the client understands the legal principles most pertinent to their matter.
Our friendly approach makes our client feel at ease and able to ask anything that they may otherwise think is a "stupid" question. To reinforce this point – there is no such thing as a stupid question!
What advice would you give to a client who wanted to pursue a case which you didn't think they needed to?
The best advice is to think with your head and not with your heart to establish what the desired outcome is. Unfortunately, it is easy to let your emotions cloud your judgement.
The client will always receive an honest assessment of the viability of the case. Additionally, the client will receive a realistic indication of the cost and timescale so they can make a rational decision.
How does specialist advice from a solicitor provide value for money?
Paying for something intangible oftentimes seems difficult to understand. Important to remember, when paying a solicitor, you pay for the time and professional advice that is provided to you.
We endeavour to keep our charges as competitive as possible whilst ensuring that the best service is given to the client.
Many people think they can deal with their legal issues alone, what pitfalls can clients fall into without professional legal advice?
While it can seem attractive to carry out the work yourself this is inadvisable. Overlooked legal intricacies by someone unqualified can cause unnecessary costs down the line. For example, you would see a dentist if you had a toothache and would rely on their professional knowledge & expertise – the same standard applies to legal matters, too.
Moreover, many people increasingly look to the internet to answer legal questions. Whilst that is helpful to get a preliminary understanding of an issue, it is not an adequate substitution for any professional service you may require.
How we can help:
CJCH is an award-winning firm with over 35 years' experience in personal and business legal matters. For more information, get in touch with a qualified member of our team today.
Telephone: 0333 231 6405
Email: admin@cjch.co.uk