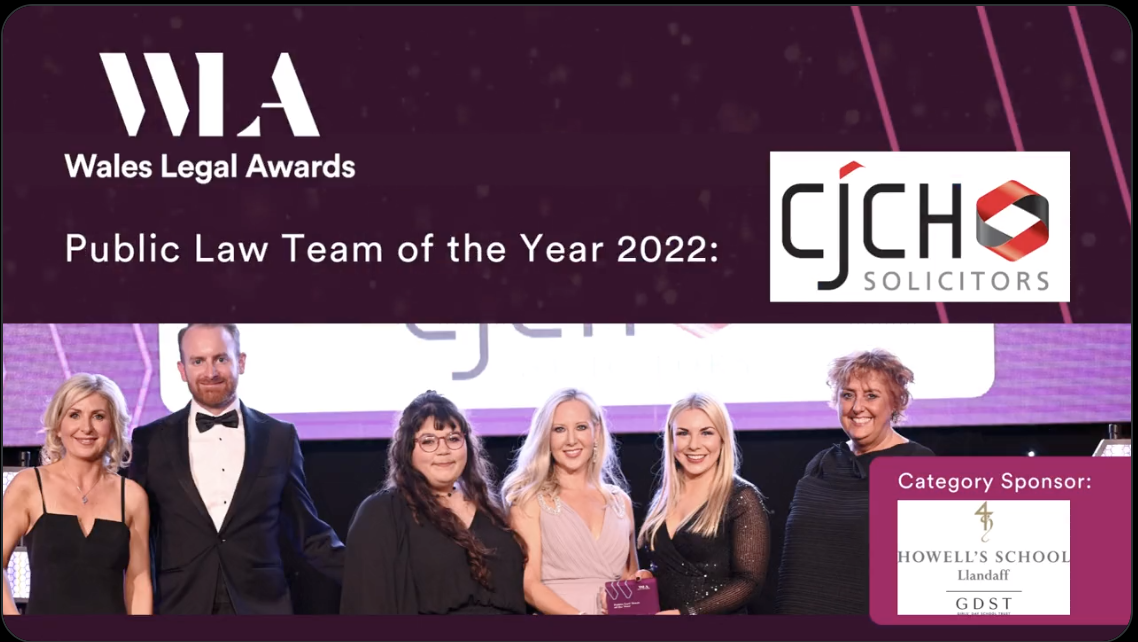 Court Of Protection
At CJCH we have a unit dedicated to Court of Protection (CoP) for representation before the court relating to Deprivation of Liberty Safeguards (Dols), welfare orders, Property and financial affairs and deputyship applications.
The Court of Protection considers applications made before it in relation to decisions regarding a person's health and welfare, or property and financial affairs as they have been deemed to lack capacity to make such decision for themselves.
We are regularly instructed by Independent Mental Capacity Advocates who are the 'voice' for those subject to a deprivation of liberty safeguard, and regularly appear before the court to challenge a person's deprivation. We also represent families where applications are made by the local authority or health board concerning a person's welfare, and represent those persons who wish to challenge this decision.
We have a dedicated team who have an advantage in this area due to their extensive experience and knowledge in both mental health law and mental capacity act decisions. The team also consists of specialist non-legal consultants assisting the solicitors who have worked directly within the Independent Mental Capacity services to offer a holistic approach to everything we do.
A Court of Protection Deputy is a representative who is authorised by the Court of Protection to make decisions on the person's behalf. The CJCH Solicitors team have one of the longest standing track records for providing CoP representation with over seven years of deputyships and deprivation of liberty safeguards.
Who is considered to lack mental capacity?
A person who has suffered serious brain injury or illness; has dementia, or has severe learning disabilities.
How can we help?
Our Solicitors and caseworkers are able to assess your situation and determine the most beneficial support plan for yourself or your loved one. We understand the difficulties an individual, their family and their carers go through when faced with reduced mental capacity, and we do everything in our power to manage the situation on your behalf. As a Court of Protection Deputy, we act in the client's best interest, manage and safeguard their assists and make the critical medical and lifestyle decisions on their behalf to ensure they receive the care they deserve. The CJCH team can ease the burden associated with metal capacity challenges.
We can offer :
Deprivation of Liberty Safeguards (DoLs)

Mental Capacity Act Challenges

Section 16 Welfare Order challenges

Management of personal affairs

Welfare matters

Legal Aid available

Representation at court

Power of Attorney

Protection of Vulnerable Adults

Applications for property and affairs/health and welfare attorneys

Health and Social Care assessments

Next step? Just get in touch with us via
Court of Protection Department

Call Us on 0333 231 6405 Email: mentalhealth@cjch.co.uk
Our Team
Sarah Newport

Sarah Newport

Sarah joined CJCH in October 2019 and is the Head of the Court of Protection department. Sarah is an experienced Court of Protection solicitor specialising in welfare cases. Sarah regularly advises in the most complex cases before the Court of Protection, including end of life cases. Sarah also has experience in Special Educational Needs and acting in wider public law matters, meaning that she is able to advise parents and families of young disabled adults in respect of the crossover with the Court of Protection.

Sarah advises on deputyship applications to the Court of Protection, having particular expertise in personal welfare applications.

Get in touch ›

Amy Roberts-Rees

Amy Roberts-Rees

Amy is a Partner at CJCH having accepted the position in 2013. Amy has overall responsibility in managing the Mental health and Court of Protection departments having established the offerings at the firm.  Amy has been a Solicitor at CJCH for over 12 years and has been specialising in the areas of Mental Health Law and Court of Protection for Welfare combined for over 14 years. Amy is recognised by the Law Society as a specialist lawyer in both Mental Health and Mental Capacity law (ALR) being the only solicitor in South Wales to be recognised as a specialist in both areas of law. Amy was recognised in the Wales online feature as one of the 30 young lawyers to watch in 2018. Amy is a fluent Welsh speaker.

Get in touch ›

Jodi Winter

Jodi Winter

Managing Partner

Jodi is the Managing Partner and Head of the Department for Family and Children Law at CJCH. In addition to being an executive board member of the CJCH Group, she advises and represents both individual and corporate clients and with over 20 years of experience, she specialises in a number of areas including Family Law, Public Sector, and Mental Health Law.

Get in touch ›

Angela Baker-Earle

Angela Baker-Earle

Angela joined CJCH in 2023 and is a solicitor in our Court of Protection team. Angela qualified in 2004 at an international law firm. She has public law experience having also been employed as an advisory lawyer to the Welsh Government, specifically in their education team. In 2020 Angela undertook a Masters in Social Care Law at Cardiff University. She is an experienced tribunal panel member sitting on Fitness to Practice hearings on behalf of Social Care Wales. 

Get in touch ›

Craig Mills

Craig Mills

Craig is a Solicitor and the Mental Health Team Leader who joined CJCH in 2014. Craig represents clients at Mental Health Tribunals in both England and Wales.

Get in touch ›

Megan Gray-Power

Megan Gray-Power

Megan joined CJCH Solicitors in January 2020. She is an experienced Court of Protection paralegal who assists in all manner of the complex welfare cases handled by the team.

Megan is popular with clients and practitioners alike and is well known for her competence and efficiency in cases.

Megan's wider experience includes special educational needs law and higher education cases.

Get in touch ›

Sarah Devine

Sarah Devine

Sarah originally joined CJCH in 2018 as a team administrator within the Mental Health department and is now a paralegal with a specific focus on Court of Protection matters.

Get in touch ›

Hattie Dennedy

Hattie Dennedy

Hattie joined CJCH in 2023 in the Court of Protection team as a trainee solicitor.  She studied an LL.B in Law at the University of South Wales and is currently working towards a Master's Degree in Legal Practice.

Get in touch ›

John Moore

John Moore

John advises Private Clients in the areas of Wills & Probate, Power of Attorney, Deputyship, and Residential Conveyancing. Although specialising in Private Client services since 2013, he has been with CJCH since 2003, and has been a Qualified Solicitor since 2010.

Get in touch ›

Contact us today!

Have a question or query for a member of our team. Please feel free to get in touch.