CJCH Solicitors – Wales Legal Awards Finalist for Corporate and Social Responsibility segment

| 8th March 2019
The team here at CJCH Solicitors were beaming recently when we learned of our firm being named a finalist in the Legal and Financial category of a leading local awards initiative. Our excitement has more than doubled when it was recently announced that our firm had also been listed as a finalist in the newly established Wales Legal Awards in the category of Corporate and Social Responsibility Programme of the year.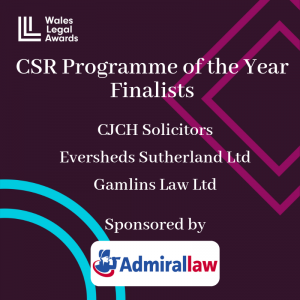 Our CSR initiative is lead by our senior partner, Jacqui Seal, together with a team of our staff. In 2018, our programme included on-going support for main charity, Y Bont school for children living with disabilities, who we partner with to support their events, conduct fundraising initiatives on their behalf and generally offer our support where we can.
Other initiatives we have taken on in 2018 have included:
We are proud to be representing this category of the awards, as the ethos of the CJCH legal practice is to always give back to the communities in which we provide services.