CJCH Solicitors clinches major deal to fight international software piracy
| 1st November 2015
November 2015
CJCH Solicitors has secured a major contract from a multinational software company, to support its strategy on protecting its Intellectual Property and lead its fight against international piracy of its products. The contract with Dassault Systèmes to combat the unlawful use of its design software stretches across countries in Europe and the Middle East.
The CJCH team, led by senior partner Stephen Clarke, investigates the use of pirated software in these countries and takes the appropriate action against the infringers with the aim of either regularising the situation or stopping the misuse through the legal process.
"We first worked with Dassault Systèmes six years ago," explained Mr Clarke. "Initially, it was just in the UK and in compliance related issues. However the success we achieved led to our firm being invited to run pilot projects with the focus being the commercial use of pirated software. We started the pilot last summer in six European countries and from the results achieved we won the full-time contract that has now been widened further."

"The latest contract adds 10 further countries in Europe to our portfolio, as well as the Middle East. "
Andrew Clarkson the Global head of Anti-Piracy and Compliance for Dassault Systèmes says of the partnership with CJCH "It has been a great success for Dassault Systemes and the way that CJCH has managed the project is completely in line with our strategy of encouraging the use of legally bought software and educating business around the risks of using 'cracked' software."
Dassault Systèmes is a major provider of 3D design software (www.3ds.com) serving 12 industries (automotive, aerospace, consumer goods, energy, life sciences, natural resources, etc) around the world.
Copying of the software and using it without a licence are criminal and/or civil offences in all countries, and CJCH's expertise includes deciding how best to deal with each case it identifies.
The team has expanded from six to 15 with many being law graduates with language skills, and some coming from overseas to study a Masters in Law at Cardiff University, staying on to work with CJCH.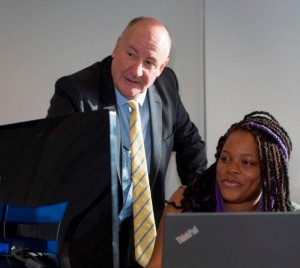 "It's a very talented team, and we have a huge range of languages covered – French, German, Spanish, Italian, Portuguese, Turkish, and several Asian languages," said Mr Clarke.
"We're now looking to add someone with Scandinavian languages to our team, as our work expands into those countries."
Mr Clarke has also been chosen by Dassault Systèmes to help their lawyers covering, North and South America and Asia by offering them his expert advice and guidance.
The CJCH anti-piracy team is based in Cardiff.
Earlier this year, CJCH's anti-piracy work earned it a place as a finalist in the international business category at the inaugural Cardiff Business Awards.