CJCH is to be the new Slovak Consulate Office
| 29th November 2016
The Honorary Slovak Consul for Wales, Mr Nigel Payne, will now be based at the CJCH offices in Cardiff.
The agreement was confirmed with a visit by the Slovak Ambassador, His Excellency Lubomír Rehák, who officially opened the new Consulate venue.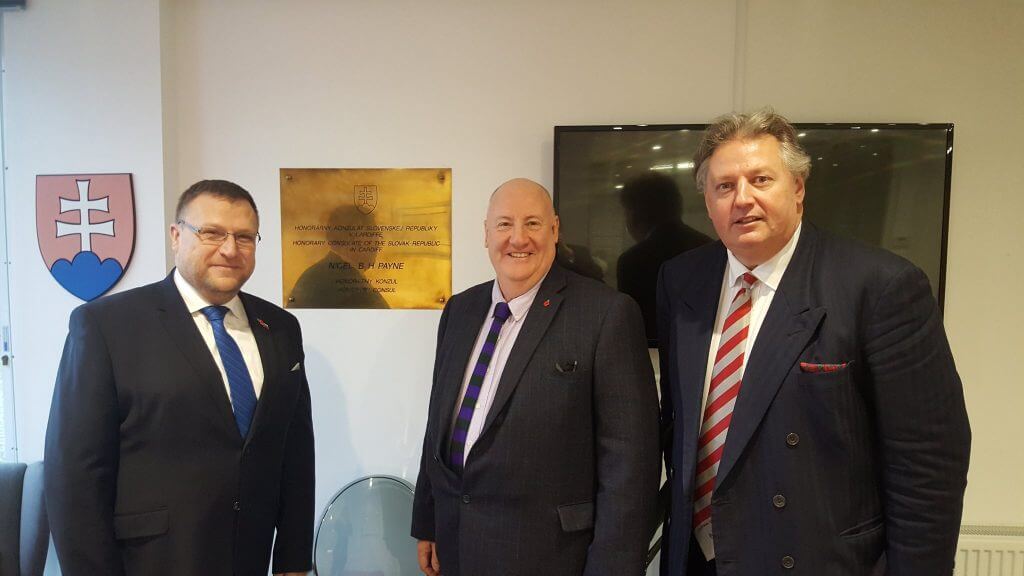 Mr Payne will use the office to liaise with the Slovak Embassy over official visits to Wales, and act as a link between the two countries.
As honorary consul, Mr Payne provides help to Slovak nationals who may need it, and validates documents requiring authorisation for Slovak nationals living in Wales.
Being based in CJCH's offices also means he has expert legal support on hand when required.
CJCH senior partner Stephen Clarke says;
"We are very pleased to help the Slovak Embassy by providing office space for the honorary consul,". "International trade and inward investment relies on smooth relations between countries, and the UK's withdrawal from the European Union is likely to bring new challenges, when legal advice may be vital.
"Our location in central Cardiff, our burgeoning international reputation, and our wide-ranging legal expertise have all contributed to our being chosen to host the consulate."
The ambassador's visit to Cardiff also involved official diplomatic government meetings, including with First Minster, Carwyn Jones.
The ambassador and the honorary consul gave evidence to a Welsh Government committee about Slovakia's current EU council presidency term and the links that have been established between Slovakia and Wales since Mr Payne took on his role in 2005.