Cardiff hosts international anti-piracy conference
| 8th February 2016
Cardiff has followed Thailand and India as host of a major anti-piracy conference.
France-based multinational software company, Dassault Systèmes, chose the Welsh capital for its annual event on the recommendation of CJCH Solicitors, the burgeoning South Wales law firm which leads the battle to protect the company's intellectual property.
Cardiff-based CJCH Solicitors has a contract to fight the unlawful use of the company's design software in countries across Europe and the Middle East.
Forty-two members of the legal and antipiracy teams flew in from all over the world and were in Cardiff for the week-long conference, which included talks on European and worldwide intellectual property, and presentations on patent law and copyright law.
Stephen Clarke, senior partner at CJCH Solicitors, gave presentations about high-level investigations with particular emphasis on prosecuting and defending high-value cases.
"This is a very important annual event for the company, and it is held all over the world," said Mr Clarke. "Recently it has been in Thailand and India, and next year it's likely to be in Chile. So it was a real coup to host it in Cardiff."
Among the week's team-building exercises was a collaborative project to design and create a replica Welsh mining banner that reflected the Dassault Systèmes antipiracy team ethos. The completed banner is due to be framed and displayed in the company's legal department offices in Paris.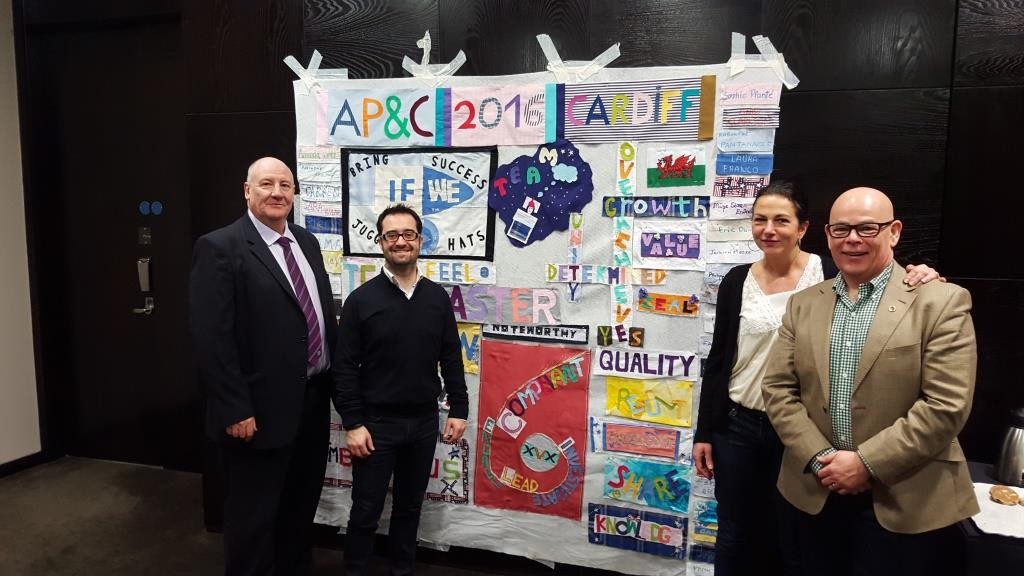 Andrew Clarkson, Dassault  Systèmes senior director, antipiracy and compliance program worldwide, and a former senior officer in both South Wales Police and Gwent Police, said:
"The whole team was very impressed with Cardiff and the welcome they received throughout the week.

"Most of the team had never been to Wales before, so it was great to experience some of the history and culture, as well as having the legal expertise of CJCH Solicitors on hand to share their knowledge and experience with us."
The week included visits to Cardiff Castle and the Principality Stadium, and for one Doctor Who enthusiast, the chance to see the Doctor Who Experience in Cardiff Bay.